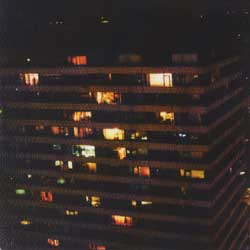 BOHREN UND DER CLUB OF GORE from mülheim/ruhr turned out to be the
favourites of the music critics. with their debut album "Gore Motel"
they managed to catch the depressing mood of a late night visit to a bar
in the local red light district and invited their listeners to a journey
into the heart of darkness. with their next album "Midnight Radio" they
succeeded indissolving time completely with about 140 minutes of pure
depro-monotony that helped them being recognized as one of most
innovating german bands since S.Y.P.H. the following album "Sunset
Mission" was going to secure commercial success for the group, but more
than obviously this has not been realized yet. their last album "Black
Earth" saw no use in any kind of musical innovation.